Despite the challenges faced by businesses worldwide, Be-Ge Baltic not only works intensively, but also makes time to continue its traditions. One of the traditions of the industrial sewing company is annual trips that were suspended for the past two years due to the pandemic situation. This year all the employees were invited once again to go on a journey for the 13th time. By going on adventures and getting together new experiences we strengthen our team relations, cooperation, and team spirit.
This time we went to the Rokiškis region, the Ilzenberg Manor located on the Lithuanian-Latvian border. This Manor is the only one in the Baltic states that has been fully restored and is continuing the traditions of natural agriculture. Walking around the farm and sailing on an electric catamaran on Ilgis lake, we enjoyed the views and listened to the interesting stories told by the local guide.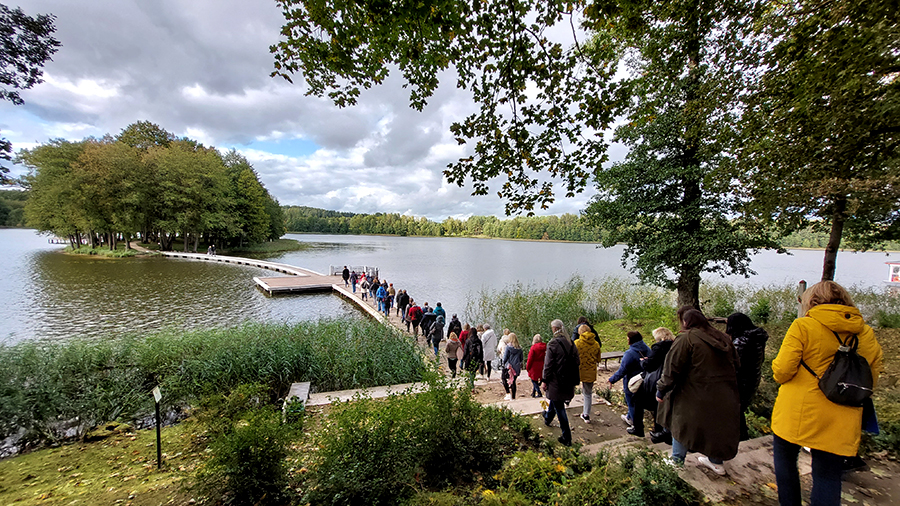 Later in the premises of the Ilzenberg Manor museum, the Be-Ge Baltic managers reminded the employees of the values of the Be-Ge Group, which are Customer value, Long-term view, Collaboration and Assuming responsibility. We believe that better knowledge of values helps to understand better what is important to the company and what is expected of the employees.
In addition, a new tradition was introduced – awards for the ambassadors of the company's values. Supervisors from cutting, sewing and assembly departments together with the staff from the administration have chosen the ambassadors of Be-Ge Baltic values by voting before the trip. The selected employees received gratitude and symbolic gifts for supporting and presenting Be-Ge values.
We are pleased that our employees support and follow our values and we hope that the Ambassador of the values awards will become a new annual tradition at Be-Ge Baltic.