The quality assurance is a key concept for many. An ongoing internal control, monitoring and improvement gain a special significance under such conditions when an error of 1 mm deviation makes a big difference.
Quality Management System
For us, high quality means to meet or exceed the demands, needs and expectations of the customer at the lowest possible cost. This is achieved through documented and monitored processes and 100 % quality control when each item is manually checked before it leaves the plant.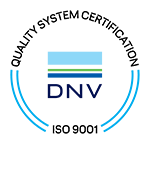 Certified according to Quality Management System