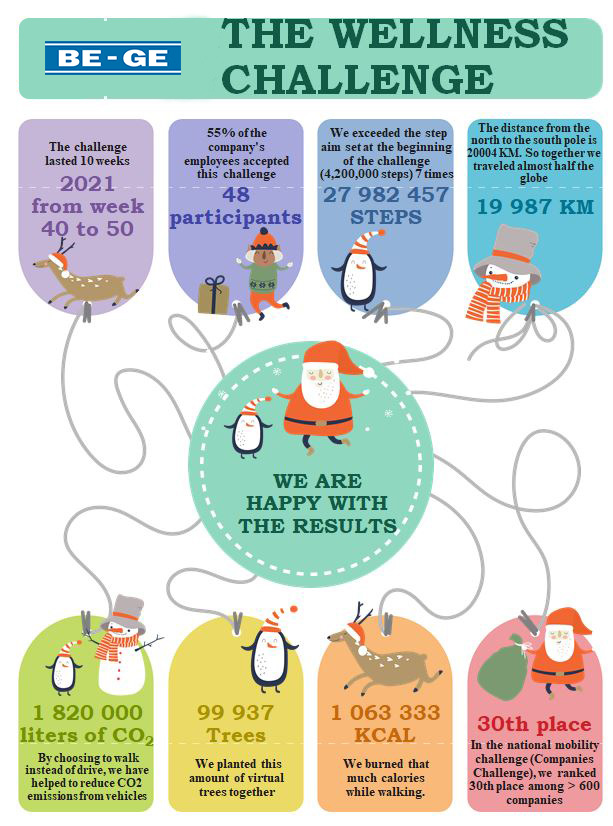 From autumn until spring people are usually less physically active and, consequently, it negatively influences their physical health. This year Be-Ge Baltic, is taking care of the health of its staff, invited employees from all departments (sewing, cutting, upholstering, lego assembly, administration) to join a step challenge which was called "To the Lapland and back". The aim of this challenge was to encourage people to walk more often and spend more time outdoors during the cold season. More than half of Be-Ge Baltic employees accepted company's internal challenge and this active involvement has led to the fact that we exceeded the goal of the step challenge even 7 times. The distance we walked was way further then to Lapland and back, we walked almost halfway through the planet! On the 21st of December, right before Christmas, when the challenge ended, top 5 our colleagues were rewarded.
In addition, Be-Ge Baltic arranges free physiotherapy sessions for all the employees which they can attend remotely. These sessions have been organized since October and we are planning to continue them.
All this is a great way to maintain our health and develop a team spirit.
Be-Ge Baltic is wishing everyone to be and stay healthy!